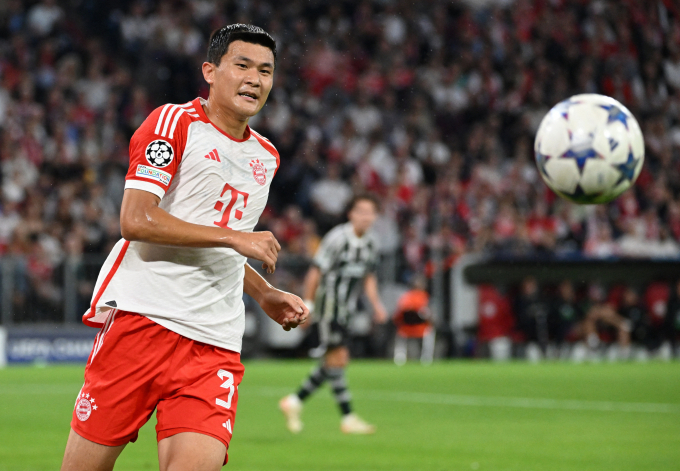 When will Bayern Munich defender Kim Min-jae be able to return to full fitness with a break?
German outlet Sport1 reported on Thursday (April 14), "Kim Min-jae is the glue that holds together the thinned out Munich defense. Although he sometimes makes serious mistakes, it is possible that he is being asked to do too much," the German outlet reported.
Kim hasn't been able to rest for the entire first half of the season. With the team at full strength and alternatives such as Matthias Der Licht and Tarek Buchmann all out for long periods of time with injuries, it's clear that Munich need him to play.
Der Licht recently suffered a partially torn ligament in his right knee against Saarbrücken and will be out for around four weeks, while Buchmann will be out until February next year following surgery. Even Upamecano, who has been named in the projected starting lineup, is far from fully fit after returning from injury. Given this situation, it's inevitable that the center of Munich's defense will be on Kim Min-jae for the entire first half.
However, Kim Min-jae hasn't been able to play a full game in every match. In Munich, Kim has played full time since the last match against Mönchengladbach in the third round. Prior to the game against Heidenheim, he had played full-time in 14 consecutive matches.
"We have players like Alfonso Davies and Kim Min-jae who have played a lot of games," Thomas Tuchel said before the match, adding that he was cautious about Kim's workload.
He has played a lot of league, cup, and Champions League games for Napoli, but this season will be even more demanding. He hasn't had much rest since the end of last season, when he was in basic military training, and he was thrust straight into the starting lineup after his move to Munich. Unlike last season, when he used his speed to dominate opponents until the very end, he has recently shown signs of fatigue in the final minutes of games. As a result, it's hard for him to put in a consistent performance every game.
His stamina issues have led to some uncharacteristic passing mistakes. In the last match against Heidenheim, when Munich were up 2-0, Kim made a poor pass that led to the equalizer. As some German media outlets put it, "At the center of it all was new signing Kim Min-jae, who gave the ball away with a poor pass that led to the equalizer. This is a recurring phenomenon that summarizes the recent performance of Kim Min-jae, whose passing has been erratic." Some German media outlets criticized Kim Min-jae.
Even German media outlets have expressed concern about Kim Min-jae's workload, and it's likely that there will be a lot of interest in his playing schedule for the foreseeable future.
According to Sport1, "Kim has played 959 out of 990 minutes in the Bundesliga and has played full time in all four Champions League games. It's hard to make a real recovery even during the A-match period. How long will this situation last," he said, referring to Kim's heavy workload.
"He quickly established himself in his new team with the strength and tackling ability he showed at Napoli. He is the only consistent player in a Munich team with three central defenders. His only missed game was the first round of the Pokal against Prussian Münster. In the last two games, as usual, he played well for most of the game, but he couldn't escape the fatigue of some risky decisions," the coach said, adding that Kim played a lot of minutes, which sometimes led to dangerous situations.
The media also reported that Munich's head coach was worried about Kim. "We can see that he played more than 90 minutes in every game," said Munich sporting director Christoph Fround. We can see that he played more than 90 minutes in every game, so there were lapses of concentration, but he is human," he defended.
However, he also emphasized the need for Munich to act as this situation could repeat itself.
"With an under-strength squad and a constantly tight schedule, what are the alternatives," said Sport1. Kim Min-jae will also have a busy schedule during the A-Match. He will face Singapore in Seoul, followed by a match against China in Shenzhen. Then, in less than 80 hours, we'll be back in action on Friday night against Cologne," says Kim, sharing his November A-Match schedule.
"If you add up all the traveling, it's about 20,000 kilometers, and the stress level is high, but he won't complain. He chose soccer because the intensity suits him. But at some point, even monsters get tired. It is expected that Munich will have to consider the right time to give him the rest he needs for the good of the team," said the analyst, adding that Munich should make the decision to rest Kim.
Aside from the two A-Match fixtures, Kim still has seven games left before the final match of the first half against Wolfsburg. In the league, the competition from leaders Leverkusen is fierce, so it will be difficult to leave Kim out until the second half of the season when Der Licht returns. In the A-Match, the need for Kim is even greater as the South Korean national team enters the second round of Asian qualifying for the 2026 World Cup North and Central America.
It's also important for both Munich and the Korean national team to maintain their fitness at the end of the first half, as Kim will need to rest for about 10 days before rejoining the national team for the Asian Cup next January, as opposed to the three days the other players get after the end of the first half.
The only games where Kim is likely to be given a break are the two remaining UEFA Champions League group stage matches. Munich defeated Galatasaray in their last four matches to 카지노사이트 clinch first place in Group A early. Even if they lose both of their remaining games, they'll still advance to the round of 16 as the top team, so there's no reason to overplay Kim. Tuchel may want to consider rotating him in the league to ensure he is in good form.
With Kim's mistakes and the controversy over his abuse growing with each game, it will be interesting to see how Tuchel manages the core of his defense.