A "Passionate Fight" Jeduk Kim "AG is a stage of my dreams… I will shoot without hesitation"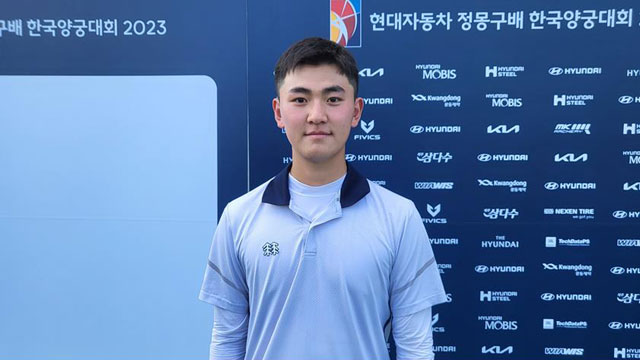 Archer Kim Jeduk (19, Yecheoncheon-gun), who will compete at the Hangzhou 2022 Asian Games in September, has vowed to continue his "passionate fighting" at the Asian Games.
"When I compete, I can't help but feel nervous," Kim told reporters after the official practice for the Hyundai Jeong Mong Kubae Korea Archery Championships 2023 at the Mokdong Sports Complex main stadium in Seoul on Sept. 31. I think it's become a routine for me to scream and shout for my teammates," he said.
This will be the first Asian Games for Kim, who competed in Tokyo, Japan, two years ago as a high school sophomore.
"I don't think I knew what I was doing back then, I was just thinking about shooting confidently," Kim laughed, "but now, as I've gained more experience, I know what it's like to compete in international competitions," he said, noting the difference in himself.
"There is a lot of pressure and a lot of thoughts, but I want to overcome them and show my full self," he said. "I want to practice a lot, manage my physical fitness well, and shoot without regrets in the competition. I will do my best so that I won't be disappointed with the results."
Korean archery is the 'world's strongest' sport, but it has recently been under intense pressure from China and Taiwan.
In response, Kim Jeduk said, "I don't care about other countries, but I believe in the amount of training Korean archers have put in," adding, "We will do well at the Asian Games or any competition because we have prepared hard."
When it comes to selecting athletes for the individual competition, he said, "The best shooters should compete anyway. We will accept the result, whether it's third or fourth place," he said, adding that the team has been practicing a lot for the team competition.
"The Asian Games is a dream stage," said Kim Jeduk, "and we will do our best to make sure there are no disappointments."
"There are 23 days left until the Asian Games, and our final training is going well," said Oh Jin-hyuk (Hyundai Steel), the 'eldest brother'. "It's a great opportunity to compete with good athletes in domestic competitions before the Asian Games."
"It's a great honor to be able to compete," said Oh Jin-hyuk, who applied to be a member of the International Olympic Committee (IOC) but was unable to attend a closed-door interview with the Korean Athletes' Evaluation Commission due to his training schedule in Paris. Congratulations to Park In-bee for being selected as the Korean candidate, and I will do my best as an athlete," he said.
"My shoulder is not good, so I changed my bow stance and technique, but I'm not shooting high scores as consistently as before because I lost a lot of details," said Oh Jin-hyuk, "but I'll do my best under the circumstances."
"I can't say for sure that I will retire, but I think I can say that it will be sooner rather than later," he added, referring to the end of his career.
Kim Woo-jin (Cheongju City Hall), who is competing in his fourth Asian Games, said, "I'm getting back on track after a bad run. With the Asian Games just around the corner, I'm determined to improve my performance."
"If you take the pressure as a burden, it seems to become more pressure," he said, "I will find a way to utilize the pressure. If I have faith in myself and use it as motivation to train harder, I don't think it's a bad thing," he said, revealing his 'archery girder' persona.
Lee Woo-seok (Kolon), who is competing in his second Asian Games, is determined to win gold this time around.
Lee won two silver medals in the men's recurve individual and team events at the 2018 Jakarta-Palembang Asian Games.
He did not compete at the Olympic Games after the Tokyo Games were postponed for a year and he failed to qualify for the rescheduled trials.
"I think I was overconfident after the Jakarta and Palembang Asian Games," Lee said. Watching the Tokyo Olympics was difficult at first, but I congratulated the team on their medals," he recalls.
"I whipped myself by practicing fiercely, 카지노사이트킴 so I believe in what I've been doing and will try to work with the players to win gold," he said with a twinkle in his eye.