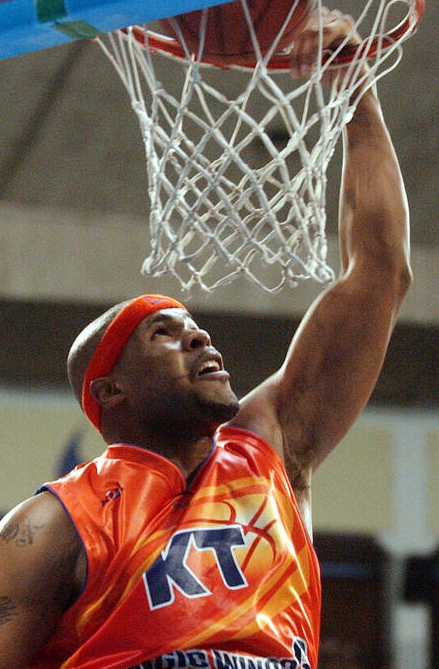 Until 2002, there were only two basketball teams in the Honam region. KCC of Jeonju and Korea Tender of Yeosu were the heyday of Honam basketball with national stars Lee Sang-min and Hyun Joo-yup, respectively. However, that was short-lived, as KTF, which acquired Korea Tender, moved to Busan, where Kia Enterprises (now Ulsan Hyundai Mobis) was based, leaving Jeonnam without a basketball team.
No wonder, the games between the two teams have been full of highlights. The fourth game of the season on January 19, 2005, at Geumjeong Gymnasium in Busan was one such game, and it was hard to predict the winner until the final buzzer sounded. Even though it was the regular season, it felt like the playoffs. At the time, Jeonju played basketball with swingmen like Choo Seung-gyun, Charles Minland, and Jerod Ward, while Busan's power trio of Aaron McGee, Gabe Minake, and Hyun Joo-yup was impressive.
Q1: Jeonju's Minland vs Busan's McGee and Minike
The Busan home crowd was enthusiastic, but the players' expressions were nervous, perhaps due to the presence of the president of KTF's parent company. Busan was missing Hyun Joo-yeop, but the presence of the one-two punch of McGee and Minake gave them an edge in the fight for the goal. Jeonju's biggest problem was Ward, who had become a liability.
He had good height (206 centimeters), but he was far from a post player. Many foreign players are used to playing the four or five in the KBL, even if they didn't play as a big man in their previous league. However, Ward's extreme dislike of physicality made him more of a long swingman than a center.
It's not an exaggeration to say that the game could be won or lost based on the play of Ward, who is even less dominant under the basket than Minland. Luckily, he knocked down four three-pointers and scored 21 points in the previous game, so there was reason to hope for some explosiveness. We'll just have to hope that he can do his job as a scorer, which he's known for, rather than a big man, which he shouldn't be.
The game started with Jeonju's offense with a ´Beep!´ jump ball. Min-land's three-point shot and Choo Seung-gyun's mid-range shot were missed in succession due to lack of physicality, and Busan, who should have taken advantage of the opportunity, was unable to capitalize. Minake scored the first points for both teams with a hook shot in front of Min-land, and Lee Sang-min countered with a three-pointer, and Geumjeong Gymnasium began to heat up.
In the battle of the foreign players, Busan took the lead. Min-land made up for her lack of strength with her unique sense and technique, matching up with Minake. However, as feared, the Busan dominance under the basket began to show when Ward lost to McGee. With the two foreigners holding down the post, Jung Rak-young and Cho Dong-hyun were able to shoot outside shots and drive in with ease. Pushed from the perimeter, Jeon Jeon-joo shot inaccurate outside shots, while Busan ran the court with confidence.
However, Jeonju's strength was not enough. Min-land, in particular, showed why he is considered the best foreign player in Jeonju's history. Minland, who averaged 22.3 points and 9.3 rebounds against Busan, scored from inside and outside the arc, including a celestial tap shot from Ward on the final possession to end the first quarter tied at 17.
Quarter 2: Word Dilemma, Forcing Jeonju to Stop Running
The second quarter was a chance for Jeonju to play only one foreign player. With Ward not performing up to expectations, it was much better to go with just one player, so if they didn't get a lead at this point, the game could be difficult. In the first game, Byun Cheong-woon, who has a lot of strength, marked Minake exclusively. Of course, it was difficult for Byun to stop Minake alone, so Min-land often came in from the back to help cover the deficit.
Byun Cheong-woon, who is not a starter, provoked Minake by playing tough defense with the intention of fouling. In fact, the tough defense often made Minake frown and show signs of discomfort. Byun Cheong-woon didn't help much on offense, but he energized the team with his aggressiveness on defense and running harder than anyone else in the backcourt. Min-land and Choo Seung-gyun also led the offense with their consistent play.
With Cho Sung-won joining in on the offense with outside shots and fastbreak points, Jeonju gradually gained momentum and scored 14 points against Busan, which was held scoreless for more than four minutes at the start of the second quarter, to take a 31-17 lead. Busan tried to keep up with the score after the midway point, with Cho Dong-hyun and Kim Sung-hyun putting up a fight, but Jeonju's run was much faster.
Jeonju's offense caught a break with just over three minutes left in the game. Both teams switched Minland and Minake for Ward and McGee to save energy, but it was Busan who smiled. McGee used his size and strength advantage to dominate Ward, and back-to-back three-pointers from Choi Min-kyu brought the score to 36-37.
Ward forgot all about what Minland had created. With Ward unable to stop McGee, Jeonju was forced to double-team him from time to time, and the resulting open space was effectively exploited by the Busan players. Despite taking a narrow 39-36 lead, Jeonju was not satisfied, as they went into halftime with the momentum completely in Busan's favor.
Third quarter: The enemy inside?
As in the second quarter, the problem was Ward. Busan constantly threatened Jeonju's goal with McGee and Minake on the rise, while Jeonju couldn't find their footing with Ward on defense, and as a result, the game remained close despite the efforts of the domestic players.
Busan got better as time went on, with Choi Min-kyu, Cho Dong-hyun, and Jung Rak-young, who started to catch fire late in the second quarter, adding to the scoring. It looked like the tide was about to turn in Busan's favor, but the experienced Choo Seung-gyun and Min-land steadily piled up points to balance the score. Judging by the atmosphere, it seemed that Busan, with the two foreign players doing their job and the domestic players receiving synergy, had the advantage, but the game went in the wrong direction from a completely unexpected place.
Busan's McGee and Minake became irritated and excited at Jeonju's close mark. Taking advantage of this, Choo Seung-gyun and Min-land stepped up and Lee Sang-min recorded his 2,300th career assist to extend the lead to 63-55. This was the moment when Busan's Achilles' heel was once again exposed: too much reliance on foreign players and difficulty in controlling them.
Q4: Ward wakes up late, but…´´
Busan regained its momentum after a steal by Jung Rak-young and a fastbreak layup by McGee. Refreshed, McGee roared with a three-pointer, and the score was down to two points. Ward, who had been playing automatic door defense against McGee, refused to listen until the long three-pointer. He took every chance he got, only to have it bounce off the rim. The shadows were getting darker on the KCC bench.
Minland was one of the best foreign players of an era that is still talked about today. But McGee and Minake were also recognized for their skills. If it weren't for their temperament, Busan could have gone even higher. In any case, Minland was flying on this day, but it was difficult for him to handle Busan's one-two punch alone.
Minake's three-pointer after a series of organized passes threatened to swallow Jeonju whole. Ironically, it was Ward who turned what could have been a rout into a game-winner. He scored five straight points, including a three-pointer from the corner and a fast-break layup, before roaring in celebration.
It was no surprise that the Busan bench, who requested a timeout, ordered Ward to be blocked. As the Busan bench scrambled to respond to Ward's surprise, Choo Seung-gyun got back into the scoring column and Lee Sang-min nailed a pair of free throws to give Jeonju a six-point lead, 77-71.
McGee and Minake were frantic, but with no other options, Busan had to rely on their perimeter offense. With a minute and a half to go, the Busan bench fell silent when Ward hit a wedge three-pointer to bring Jeonju within 80-73. It seemed that the fierce back-and-forth battle would end with Jeonju's victory.
However, the game was not over. Busan went on a five-point run with Minake hitting a three-pointer and Jung Rak-young scoring a bonus one-shot on a drive-in to make it 81-80. Chu Seung-gyun, who had been playing well on the day, was in trouble with five fouls, but Jeonju didn't give up.
With 17.1 seconds left in regulation, a dramatic layup by Cho Sung-won made it 82-81. The Jeonju bench erupted in cheers, but it was Ward who threw cold water on the celebration. With 1.7 seconds left in regulation, he fouled Cho Dong-hyun, turning the tables once again. The knee touched slightly as Cho lost his balance, which could have been unfair on Ward's part.
But the whistle blew, and Cho calmly made both free throws as the Busan fans cheered wildly. In the end, the game ended with a come-from-behind victory for Busan (83-82). Busan was led by Minake's 18 points and 8 rebounds 메이저토토사이트 and McGee's 20 points and 15 rebounds as the foreign one-two punch. They were supported by Jung Rak-young (11 points, 2 rebounds, 6 assists, 3 steals) and Cho Dong-hyun (16 points, 6 rebounds, 3 steals).
Jeonju was led by Charles Minland (26 points, 14 rebounds) and Choo Seung-gyun (20 points, 3 assists), but the lack of another foreign player, Jerod Ward (15 points, 5 rebounds), hurt. Years later, Busan would move on to Suwon, and Busan would bring another Honam team, Jeonju, into the mix for a third time.