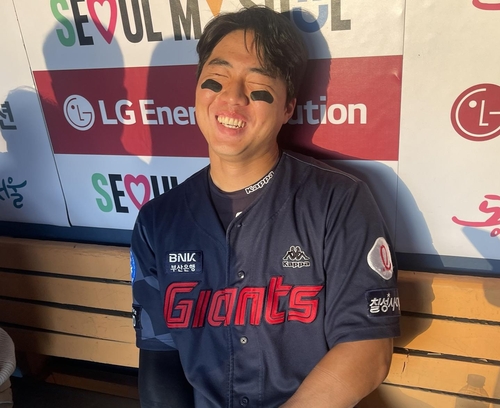 On the fifth day of the LG Twins' victory ceremony at Busan's Sajik Stadium, only two people remained in the Lotte Giants' dugout.
One is an interpreter for Lotte's foreign players, and the other is Son Seong-bin, 21, who Lotte hopes will be its starting catcher of the future.
Just four days after watching the LG ceremony from the dugout, Son Sung-bin led his team to victory at LG's home stadium in Jamsil, Seoul, with both offense and defense.
Starting in the eighth spot in the lineup against LG in Jamsil on Monday, Son went 1-for-3 with a double, a walk, a stolen base, two RBIs, and a run scored.
In fact, Son hails from "Elin," a neighborhood where he grew up cheering for LG and dreaming of becoming a baseball player.
When we met him after the game, he said, "I wasn't watching the ceremony because I was an LG fan when I was younger," and then added, "To be honest, my stomach hurt. I was watching how Lotte did the championship ceremony because I wanted to do the same thing in my bedroom later."
"I hope that the younger players on the team, including myself, will take the lead and do well in the future. We can do it," he concluded.
Son joined Lotte as the first rookie drafted in 2021, having already completed his military service in the Korean Armed Forces Athletic Corps (Commerce) and joined the team in June.
He has since gained a lot of experience with the first team as a backup catcher, batting .254 with one home run and 14 RBIs in 40 games.
He has a phenomenal 87.5% stolen base rate (7 thrown out, 1 allowed) with a strong shoulder as his only weapon.
"I've met a lot of good people since I joined the team," he said. This is my third year as a professional, and this is the year I've gained the most. Technically, I've learned a lot from (Yoo) Gang-i's brother and Battery Coach Choi Kyung-chul, and my batting has been helped a lot by Coach Park Heung-sik. I'm growing every moment," he said.
Lotte returned home from the Hangzhou Asian Games with three gold medals in Park Se-woong, Na Kyun-an and Yoon Dong-hee.
The experience of Yoon Dong-hee, who is a year younger than Park, has been a positive motivator for Son Sung-bin.
"Of course I want to play for the national team, it's something every athlete dreams of and wants to do," he said, vowing to become a player worthy of the position.
He may have a chance.
His name was included in the 62-man preliminary roster for the Asian Professional Baseball Championship (APBC) announced by the KBO in August.
With the end of the regular season just around the corner, Son promises to "stay as injury-free as possible and work hard to win every moment." 안전놀이터